HP is now the most popular laptop brands and millions of devices are sold each year. Among them, there are definitely a small port of users who would occasionally forget HP laptop password. As a tech blog, we receive the password reset request from comments from time to time.
In a nutshell, resetting password on HP laptop is very simple because it is powered by Windows.  In this article, we have shown you how to reset HP laptop password for local admin account and Microsoft account. Mostly importantly, there is no data lost during the password recovery or reset process.
You can go through each of them and then decide which one suits you best since some of them are for advanced users, and others are for beginners.
Table of Contents:
Reset Password on HP Laptop Online (Microsoft Account)
Microsoft account is an unified login portable for all Microsoft services and devices. It is the officially recommended way to login Windows 10. Actually, at least half of HP laptop users are using Microsoft account for device sign-in. The disadvantage is that the users tend to forget the password more easily when he or she changed the password for another Microsoft device or service.
Please don't be too worried. If you were the one who forgot HP laptop password and logged in via Microsoft account, then you are the lucky one as it is super easy to reset Microsoft account password.
However, this method works only if you still have the recovery email or phone number associated to that Microsoft account.
Step 1: Go to Microsoft account password reset page (https://account.live.com/password/reset). This will give you the option to recover a Microsoft account. Enter your email id which is registered with the Microsoft account and press Next.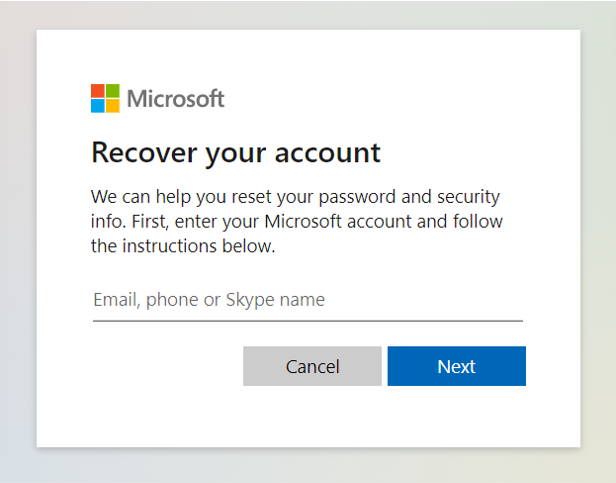 Step 2: Now, you will get an option to verify your identity through this email. Microsoft will send a security code in this email address. Select that email and press Get Code. You can also choose to view other verification methods like mobile verification.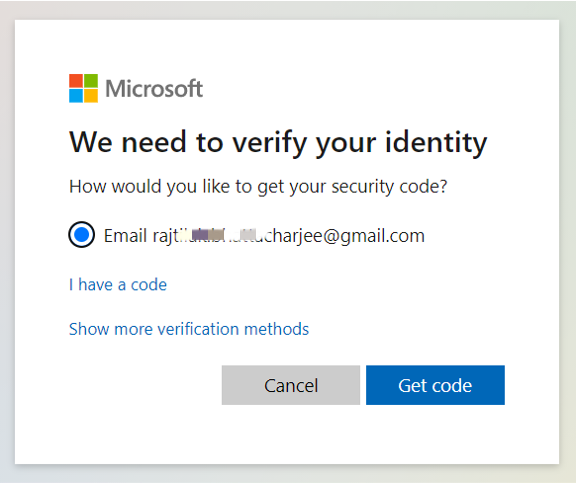 Step 3: Now you will get a screen where you can enter that verification code that Microsoft just sent you in your email. Enter that code and press Next.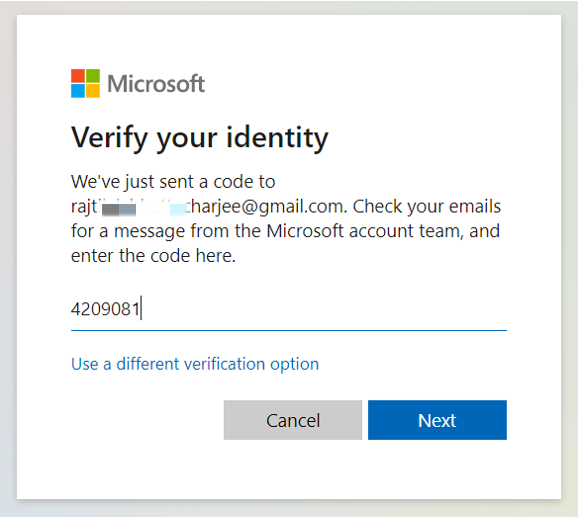 If entered properly, now you will get the option to enter a new password. Enter the password in both the places and press Next. Your password would be reset, and now you can login to the locked HP laptop using this new password.
The above is the whole process for resetting password on a HP laptop that uses Microsoft account for login. The following sections are dedicated to resetting password for local accounts.
Pros:

· No software install.

· Easy to operate.

·  Highest success rate.

Cons:

· Only applied to Microsoft account login.

· Must have access to recovery Email or phone number.
Reset Password on HP Laptop by Using Password Reset Disk
In simple terms, a password reset disk is a removable media that contains macro codes to change Windows login password on a locked computer when the password was forgotten.  For Windows 7 and later versions, Microsoft incorporated a built-in feature called Create a Password Reset Disk to help users make a password reset disk for later use.
When the process was completed successfully, there is an encrypted text file (userkey.psw) generated on your USB drive. That's the key to reset Windows password.
Now, connect the USB drive to locked HP laptop and type a random password.  It says 'the password is incorrect. Try again.' After that, a new menu named Reset Password will be shown on the screen. Please click on it at Windows login screen to launch Password Reset Wizard.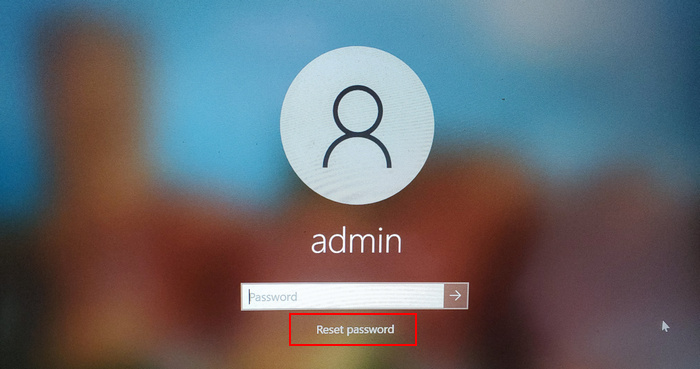 You will be asked to select the password reset USB with userkey.psw file included. Just do it and input new password twice. Make sure adding a password hint if the password was complex.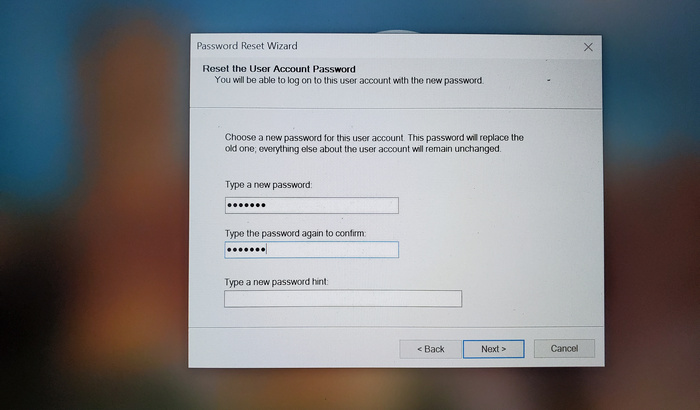 This is by far the easiest way to reset Windows password for a local account. However, you should have this password reset disk in advanced. In addition, it can only reset password for the same account on the same computer that this password reset disk was created. It is unable to reset password on another device.
Pros:

· Free (come with Windows OS).

· Very fast way to reset Windows password.

Cons:

· Only applicable to the same account.

· Must to be used on the same computer where the password reset disk was created.
Reset HP Laptop Password Instantly with iSeePassword
The function of official password reset disk provided by Microsoft is highly restricted. And a lot of HP laptop users forgetting to do this. The case is quite common and no need to worry it too much as there are several powerful password recovery tools available, which is able to reset HP laptop password with high success rate.
The first one we are going to talk about is iSeePassword Windows Password Recovery, a professional and efficient tool for resetting Windows password. Currently, it supports removing forgotten password from Windows 10, Windows 8, Windows 7 and Windows server.
With this helpful utility, you can easily create a bootable password reset disk that can be used to reset password for different computers and no account limitations. The forgotten password can be reset in a matter of five minutes and all the steps are done through a well-crafted user interface, making its an ideal tool for home user. The following is a how-to guide on how to unlock a HP laptop password.
Step 1: Install iSeePassword Windows Password Recovery on another computer that has administrator permission and directly run this utility from desktop.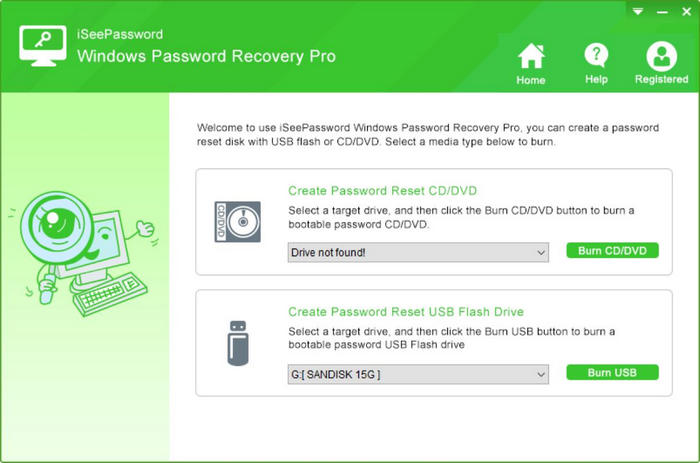 Step 2: It will give you an option to create a password reset CD/DVD or  USB. Choose the respective option and click on the Burn button beside it.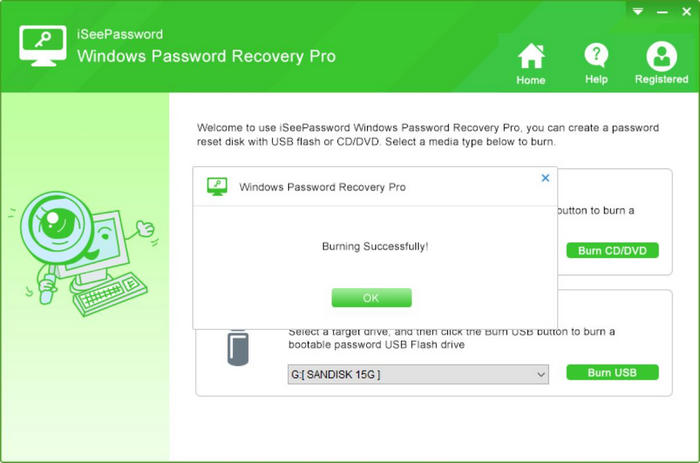 Step 3: Next, it will show a pop-up massage showing the burning was done successfully. Take out the disk and insert it in the drive of the locked HP laptop. Restart the laptop, launch Boot Menu and  then boot the laptop from external disk.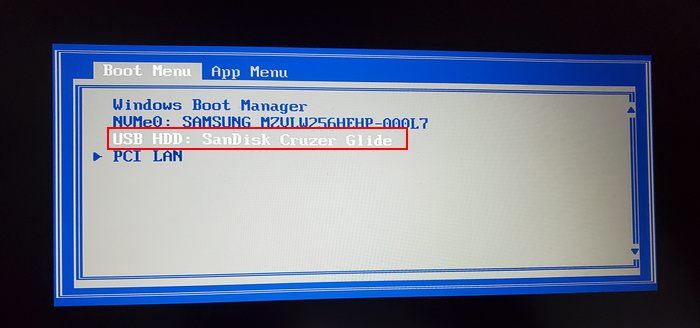 Step 4: If done properly, it will show you all the accounts on HP laptop. From the top select the Windows installation, there should be only one option in case you have only Windows installed in your HP laptop. Below that, select the account for which you would like to reset the password. Press the Reset Password button, this will reset the password for that account.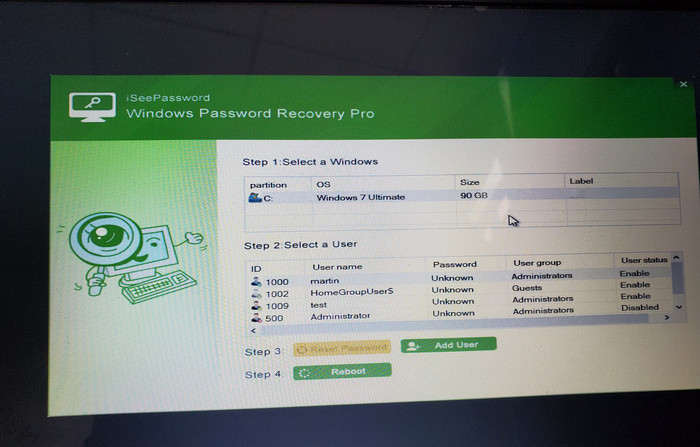 Step 5: Now press Reboot button, and once the HP laptop reboots make sure you have taken out the USB. You should be able to login to your laptop without any password now.
Pros:

· Take less time (about 4 minutes).

· Modern-design user interface.

· Supper all Windows desktop OS and Windows Server.

· Compatible with BIOS and UEFI boot.

· No data loss.

Cons:

· Not support Microsoft account and domain account.

· Free version can only view user accounts.
Recover HP Laptop Password with Ophcrack
Ophcrack is a popular and highly recommended free program for recovering forgotten or lost password from Windows local account.  It utilizes rainbow table technology to crack Windows password, which is quite effective for recovering weak password. The kernel is based on SliTaz Linux and can be used a bootable media for password recovery. We suggest giving it a try if the above methods all failed.
Step 1: Get another computer and download Ophcrack Vista/7 LiveCD ISO file from SourceForge .
Step 2: The downloaded ISO file needs to be burned onto a USB drive to make it bootable. You can use a free program like UNetbootin for this.
Step 3: Now insert the USB in the locked HP laptop and boot using the USB. Once you boot into the Ophcrack menu, opt for Ophcrack Graphic mode – automati and press Enter. This will load graphics user interface once getting into the desktop and it starts cracking Windows password automatically.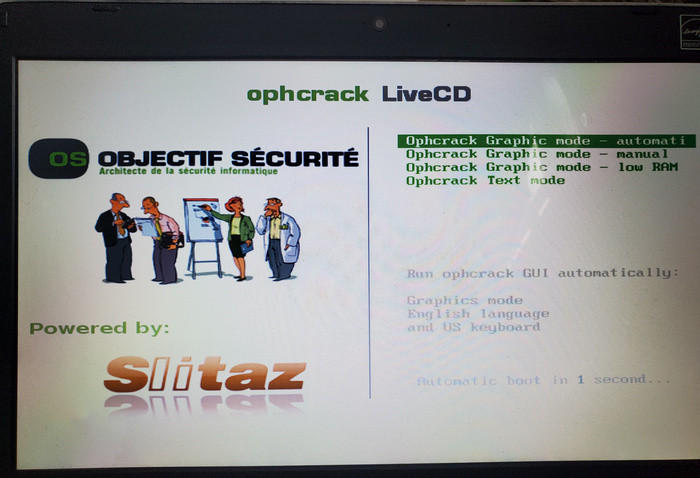 Step 4: Now, Ophcrack  loads all the user accounts on that locked HP laptop (in case you have more than one account). It will automatically try to recover the password of the locked account by using Brute-force attack. You will see a progress bar at the bottom.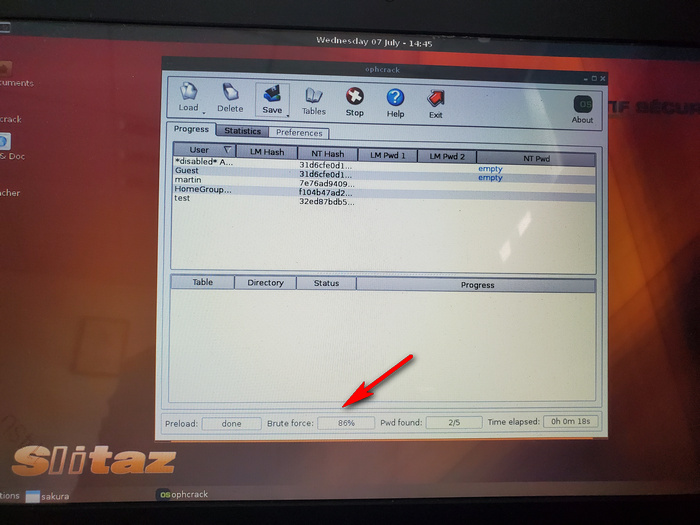 Step 5: Once the password is found,  the password will be shown under NT Pwd column. If not, it shows password not found instead. For strong password, the stock rainbow table is not able to crack the password. You have to download or buy additional tables for higher success rate.
Step 6: Note the password down somewhere and reboot HP laptop laptop. Finally,  use the recovered password to unlock HP laptop.
Pros:

· Free and open source.

· Easy to use.

· Great for recovering simple password.

· Packed with free rainbow tables.

Cons:

· Only support Windows 7, Vista and XP.

· Need to install additional software to burn Ophcrack ISO to USB.

· Unable to crack strong password with built-in rainbow table.
Reset Password on HP Laptop via Command Prompt
Another common way to reset HP laptop password is by using Command Prompt, an advanced free utility for system administrators. To apply for this trick, you should have a Windows installation media in advance.  It can be either a bootable USB, or Windows installation  DVD.
However, the instructions remain the same irrespective of the type of media you are using.  Beware that this method needs you to type in commands since it does not have a visual user interface. And it is pretty risk! Make sure you read the steps thoroughly. If you are not comfortable with that, try some of the other methods like iSeePassword software.
Step 1: Connect Windows installation media into HP laptop and boot from it.
Step 2: Once the laptop boots up, you will be able to see a Windows Setup screen. On this screen, hit Shift+F10 on your keyboard. This will bring up Command Prompt utility.
Step 3: From Command Prompt window, type in the following commands. Remember to press Enter after each line.
move c:\windows\system32\utilman.exe c:\
copy c:\windows\system32\cmd.exe c:\windows\system32\utilman.exe
Step 4: Eject the installation USB from the drive, and restart HP laptop like you normally would.
Step 5: Once the HP laptop restarts and you can see the login screen, click the Ease of Access button. This should normally open the Ease of Access menu, but remember that you have changed it to open a Command Prompt, so it will open just that.
Step 6: Once you have the Command Prompt open here, type the below commands to reset the password to your locked account. Remember to replace <username> with the actual username of the locked account, and <password> with a new password
net user <username> <password>
Step 7: Once done, close Command Prompt windows and unlock HP laptop with the new password.
Pros:

· Built-in free utility with Windows.

· Highly reliable.

Cons:

·  No graphics user interface.

·  More risky if typing the wrong command.

·  Require a Windows bootable USB or DVD.
Reset Password on HP Laptop via PassFolk SaverWin
PassFolk SaverWin is another free application that you can use to reset Windows password on HP laptop in case you forgot the password. This program can be used to remove all type of password including local accounts and admin accounts. It supports all versions of Windows Server along with the desktop versions of Windows.
Step 1: Download PassFolk SaverWin and run the software on another PC which you have access to and create a password reset USB.
Step 2: Once you have burnt the USB, you can insert it into the drive of the locked HP laptop and boot using this USB.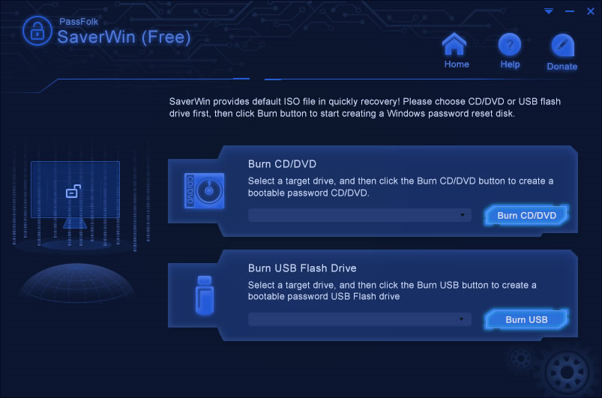 Step 3: If done properly, it loads the built-in Windows PE on  HP laptop. Select the correct option, this should be the default option in case you have only Windows installed in your HP laptop.
Step 4: Next, select the user for which you would like to reset the password, and press Reset Password. At this point, this utility will reset HP laptop password for that account.
Step 5: Press Reboot and take out the USB from the drive. Your HP laptop will boot into the desktop without any password.
Pros:

· 100% free software.

· Come with a stock ISO burning utility.

· Has an intuitive user interface.

Cons:

·  Only work with local accounts.
Reset HP Laptop Password with chntpw
chntpw, also known as Offline Windows Password & Registry Editor, is a free Linux package for resetting Windows password. Although, this is one of the most surest ways to reset the password for HP laptop, I would not recommend this method if you were not tech savvy and had never used Command Line before. You have to enter different commands to get it working.  But if you confident with Linux, you can give this a try.
Step 1: Make a bootable USB from Kali Linux  ISO, the most advanced penetration testing Linux distribution. It is a great tool for performing information security tasks. And chntpw package is installed by default.
Step 2:Boot  HP laptop with this USB, you'll see Kali Linux welcome screen. Do not click on the installation button here, we don't intend to do that. Rather, press Try Kali Linux. This will let you use Kali Linux on  HP laptop (for the time being) without actually installing it.
Step 3: Launch chntpw utility and go to SAM folder of Windows partition, which locates at /media/58388A91388A6E36/Windows/System32/config.
Step 4: Type this command (chntpw -l SAM) to list all users accounts on Windows partition.

Step 5: From above screenshot, we can see three user accounts. At this time, we will try to reset the password of Administrator account with this command:
chntpw -u Administrator SAM
Step 6: Once done, and you see a list of options, press '1' and hit Enter to reset the password to blank or no password at all.

Step 7: Now press q and hit Enter to quit the menu, and then press 'y' and Enter to save the changes you just made.

Step 8: Finally, take out the USB and restart the PC. Now you will be able to login Windows without entering password.
Pros:

· Free and no hidden cost.

· No installation required.

· High success rate.

Cons:

· Command-Line based tool and very difficult to use.

· Sometimes failed to detect Windows OS on local drive.

· Has to create a bootable Kali Linux USB first.

· Lack support for Windows 10.
Personally, I think iSeePassword Windows Password Recovery is the best way to reset HP laptop password if you are using a local account for login and did not have a password reset disk at hand. It comes with user-friendly GUI,  supports both new and old HP laptops. It also has a dedicated support team who would take care of any out of the way issues that you may come up with.
The only drawback is that you have to purchase a license to activate the password reset feature. If you are more willing to use a free program, then you can try out the other suggestions in above post.