A lot of Acer laptop users have upgraded their system from old Windows 7 to latest Windows 11 or Windows 10. This could cause a problem that some of the password reset methods no longer worked. Password is an effective data protection mechanism that prevents hackers from accessing your Acer laptop.
However, if you forgot the login password of Acer laptop, you would be locked out of the computer. It is also a good practice to change your password of Acer laptop at a regular interval. So, it's best if you know how to reset Acer laptop password when bad thing happened.
In this tutorial we have shown 4 different methods to reset Acer laptop password. Each of these methods have their own pros and cons. We will show you detailed steps for these methods, and tell you about the pros and cons so that you can choose the method which suits you best.
Method 1: Reset Acer Laptop Password in Command Prompt
CMD or Command Prompt can be used to change the password for both local and admin account. However, to use this method you need to have another account on the same laptop with administrator privileges. In addition, since this method uses the Command Prompt, you will have to type in commands since it does not have a graphical user interface. If you are not comfortable with that, then you can look at some of the other methods discussed below.
Switch to the second account that you can access at Windows login screen.  Type the correct password to get into the desktop.
Now, click on Windows Start button, then search for "cmd" (without quotes). This should bring up a list of search results from which you need to choose Command Prompt and click on Run as administrator beside it.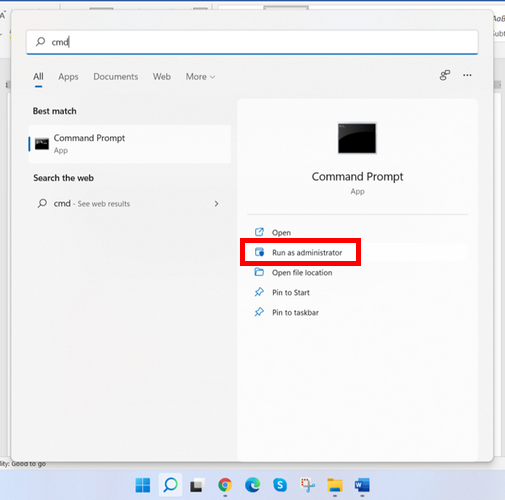 In the Command Prompt window that pops up, type the following command and press the Enter key. Make sure to replace account name with the actual username for the locked account. "Ali bbas" is the user account and 123 is the new password.
net user "Ali Abbas" 123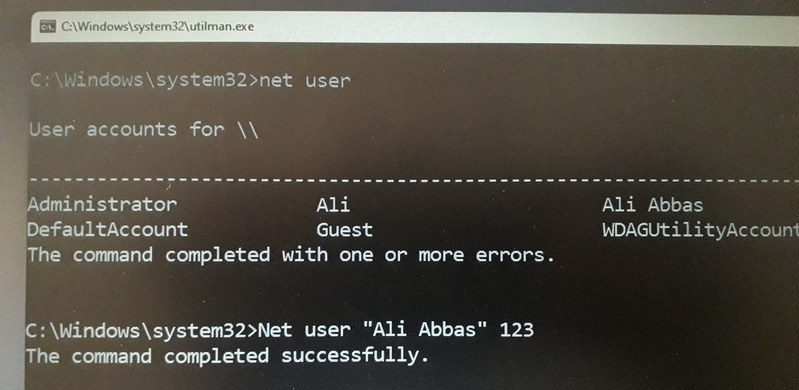 Once done, it will show you a message saying the command was completed successfully. This means that you have successfully reset Windows password with Command Prompt. Now you can restart Acer laptop and login to the locked account using the new password.
Pros:
No need to install additional software.
Quickest of the processes discussed.
Reset password for standard and admin account.
Cons:
Need to have another account on same computer with admin permission.
CMD does not have a GUI, so might be a bit difficult some users.
Method 2: Reset Acer Laptop Password Using Ophcrack
Ophcrack is a freeware that lets you recover forgotten Windows password using something called rainbow tables. It has a GUI and supports multiple platforms including Windows, Linux, and macOS. It has a LiveCD version which does not need to be installed for using it. You can check the steps shown in below to recover lost password for Acer laptop.
Download the ISO file of Ophcrack LiveCD version (https://ophcrack.sourceforge.io/download.php) and burn it to a USB flash drive using UNetbootin or Rufus.
Plug Ophcrack USB into Acer laptop and boot the laptop using this USB drive. Press Enter on the opening screen to select Ophcrack Graphic Mode – Automatic.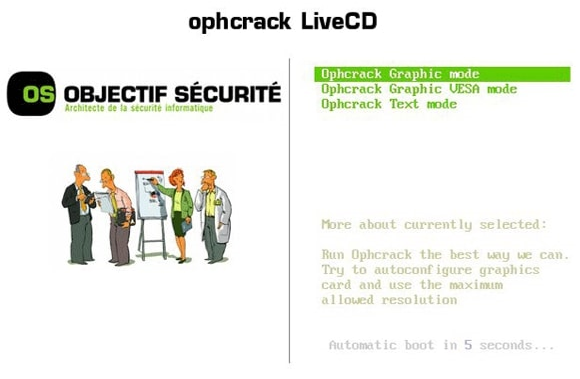 That should load the program on your laptop. This will take some time so you need to sit tight. Next it will show the hard drive information. You don't need to do anything.
Once loaded, it will show you a number of user accounts present on your laptop along with their respective password in plain English. Just note down the password on a piece of paper. Unfortunately, Ophcrack could not detect the user account on our laptop, so we had to resort to using the next method.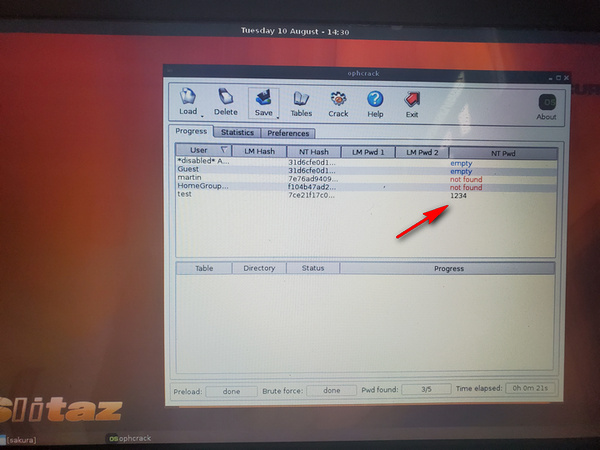 Take out the Ophcrack LiveCD USB, restart Acer laptop, then login using the password you noted down.
Pros:
Freeware
Easy-to-Navigate GUI.
Show passwords in plain English.
Cons:
Password recovery rate is poor.
No support available. You need to depend on articles from the internet.
Built-in rainbow table is not enough. Need to purchase one for strong password.
Method 3: How to Reset Acer Laptop Password with WinPassGo
WinPassGo is a freemium Windows password reset tool developed by SysGeeker software. This tool let you reset forgotten password on Acer laptop in a pretty simple manner. No matter it is a normal or administrator account, the password can be reset within a couple of minutes even it is strong enough. Most importantly, the password reset USB can be used to reset password on other computers once being made with SysGeeker WinPassGo.
All you need to do is to create a bootable password reset USB with WinPassGo and you are good to go. They do have a free version available on their website, albeit with limited functionalities.
Download SysGeeker WinPassGo from this link on a different laptop, or on another account on the same laptop Install the tool and then launch it.
Insert a blank USB flash drive, select the USB drive from the drop-down on the tool, then click on Burn button. This will create  a password reset USB for Windows OS.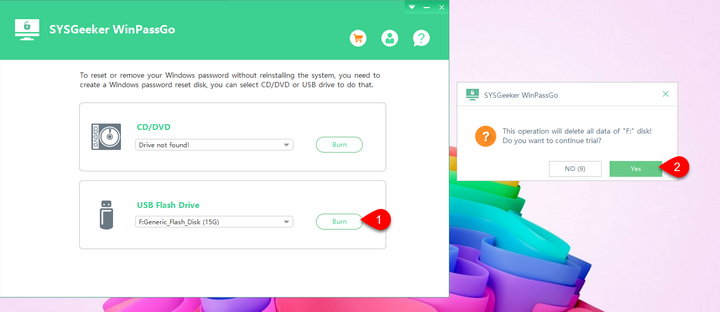 Take out the USB and plug it into the Acer laptop and boot using this USB. You may have to change the boot order in Acer laptop's BIOS.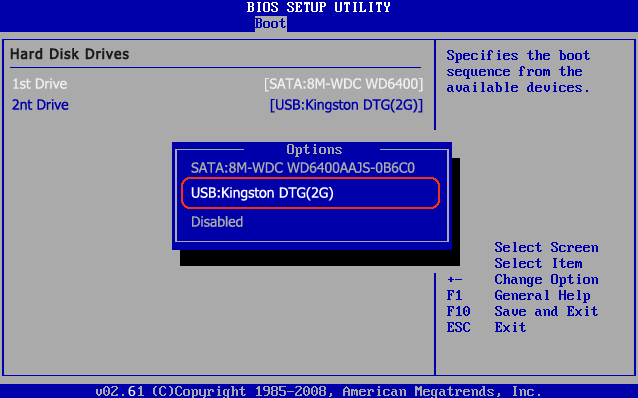 Once the laptop boots up using this USB flash drive, it will show you a list of all the accounts present on that laptop. Select the OS from the top of the list, then select that account from all the user accounts listed there, finally click on Reset Password.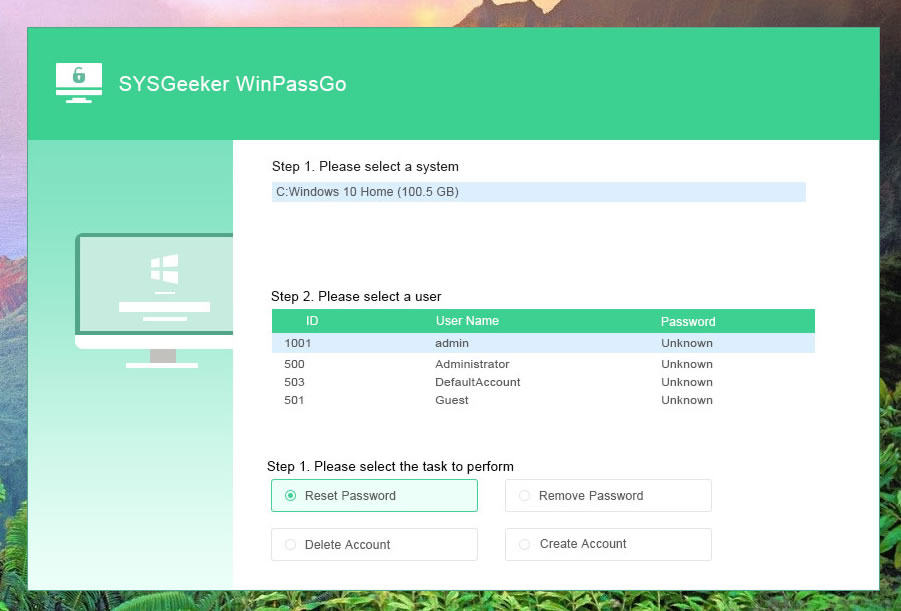 You will be asked to enter a new password. Type in the new password, then click on Reset. Once done, take out the USB, restart your laptop and you will be able to login using the new password.
Pros:
Free version available.
Support the latest version of Windows 11 OS.
Well-designed user interface.
The bootable USB can be created on any other laptop of any brand and model.
Support both legacy and UEFI boot.
Technical support available.
Cons:
Free version has restricted functionality.
Can not reset password if the drive was encrypted by BitLocker.
Method 4: How to Reset Acer Laptop Password Using Lazesoft Software
This is another freemium tool to reset account password on a Windows laptop. It is built with an intuitive GUI and an easy-to-use password reset wizard. Although the free version supports only till Windows 8, and using the free version you would only be able to view the accounts and their attributes. You would be able to reset  or change Windows password with the paid version only.
Download Lazesoft Free Windows Password Recovery on another laptop, install it, then open the program. At the first screen, choose Password Recovery and select a Windows edition and account type by following the instructions on the screen. In here, we are going to reset local password on this Acer laptop.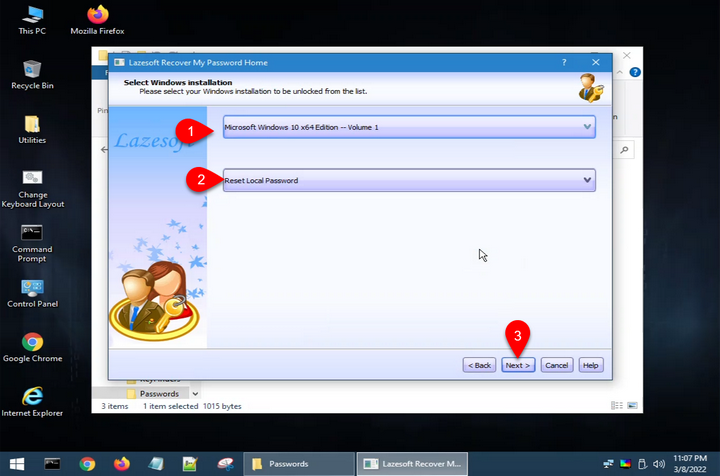 In the next window, select the account for which you would like to reset the password. In case you are using a Windows Live account to login, please select Administrator, and then click Next.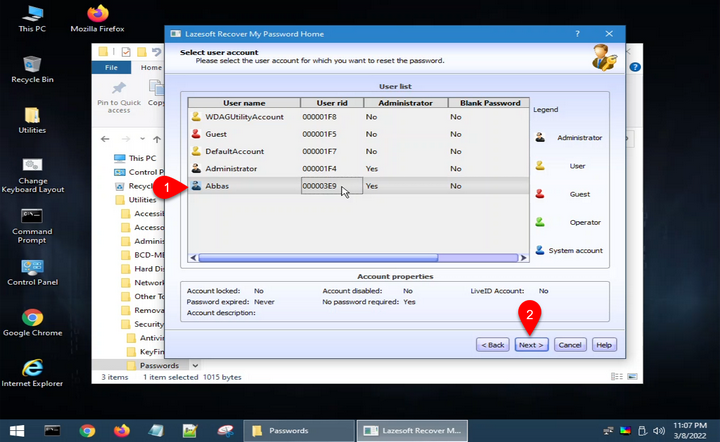 Finally, click on the RESET/UNLOCK button to set a new password for login. Reboot the machine and you can now login with the new password.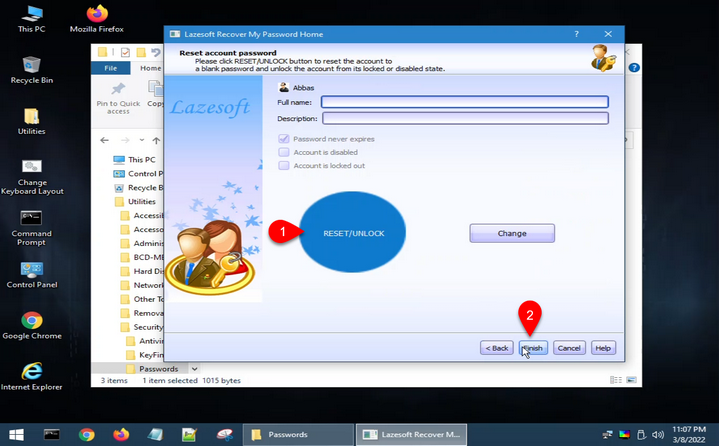 Pros:
Free to reset password for Windows local account.
The user interface is straightforward.
Cons:
Does not support the latest version of Windows 11.
Free version only lets you view the accounts, you need to buy the tool to actually reset the password.
At the End
If you have another account with admin privileges on your Acer laptop, I would suggest you to go for the CMD method to Reset Acer laptop password. Otherwise, try the SYSGeeker WinPassGO utility. Even if you came across any problem using it, you can always reach out to them for help.