Can I use Rufus on Mac?
The simple answer is No. Rufus for Mac is not released yet according to Rufus website. However, there are other ways you can apply to create a bootable USB installation media on a Mac. Please stay tuned to get the details.
In general, computer hardware without a software is nothing, just like human soul without the body is nothing. So, in order to use a computer hardware to the fullest you need to install an operating system inside it. These days there are a lot of operating systems available, however the most popular of them are windows, macOS and Linux distributions. In order to install one of this operating system, you need to have either a DVD/CD or a bootable USB installer.
If you are looking to create a bootable USB for any of this operating system on a PC, then Rufus is one of the applications you can rely on. In this article, you will  learn what is Rufus and what are the alternatives for Mac.
What is Rufus
Rufus is a very popular application on Windows PC and you are probably using Rufus to create a bootable USB. I admit that Rufus is a very powerful and yet free application that you can use to create bootable installer for Linux and Windows. It has also a lot of advanced functionality such as GPT and MBR boot scheme, Windows To Go and many more. It means you can instantly make a bootable USB from disk image.
The Good:
Free and open-source app.
Fast speed
Has tons of features built on a small and clean interface..
Support 32- and 64-bit Windows OS.
Create UEFI bootable USB.
Support various types of OS images, such as .iso and .img.
Create bootable USB for computers not compatible with windows 11.
Make Windows To Go USB from Windows 10 or Windows 11 ISO.
The Bad:
Only available on Windows PC (not cross-platform).
Rufus for Mac Available?
No. There is no Mac version of Rufus published by the developer. However, you can run Rufus on Mac in a Windows virtual machine. That is the only way to run Rufus on Mac.
However, there are alternative application to Rufus that you can use to create a bootable installer on Mac. But remember that none of them has a lot of features compared to Rufus, but it can do the job right for you. Below is a list of Rufus alternative apps on Mac.
In the following sections,  you will get to know different Rufus alternatives to create bootable USB for Windows, Linux and macOS.
Best Rufus For Mac Alternative (Creating Windows Bootable USB Installer)
Windows is still the most popular desktop operating system on earth. A lot of Mac users want to create a bootable Windows USB installation media for new build PC or fix issues on current PC. So in here, you will learn three validate tools to make Windows bootable USB on Mac, which act as a great alternative to Rufus.
#1 Boot Camp Assistant
On old version of Mac OS X and macOS, Boot Camp Assistant is a system app that comes with the internal operating system. You can easily dual boot Windows and macOS or create Windows bootable USB for later use with this free app. Hence, it is our No.1 choice if it is still working on your Mac.
Why I am saying this? The reason is that Boot Camp Assistant is official removed from Macs with Apple Silicon. Also, creating bootable USB feature is no longer available on Mac that is running macOS Big Sur.
The Good:
Free system-level app.
Developed and maintained by Apple.
Easy to get started.
Higher success rate.
The Bad:
Bootable USB feature removed from Big Sur and afterwards.
Can not work on Apple Silicon Mac.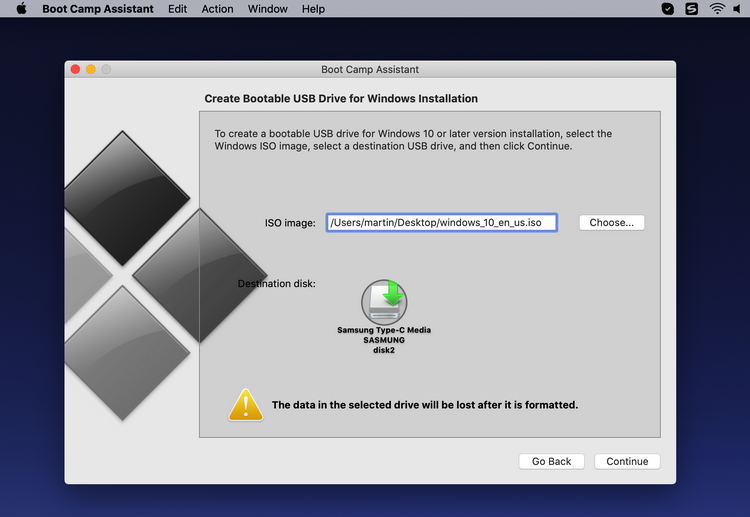 #2 UUByte ISO Editor for Mac
Our second recommendation for creating Windows bootable USB on Mac goes to UUByte ISO Editor for Mac. This  is fantastic app if you could like to make a bootable USB installer from Windows ISO.  Currently, UUByte ISO Editor is currently the best choice because of full support for Mac models (Intel and Apple Silicon platform) and macOS version.
In addition, it has a well-designed user interface and the whole process is super easy. You don't have to spend extra time figuring out how it works. Simply follow the prompt and you will get a Windows bootable USB in minutes.
The Good:
Support all Windows ISO files, including the latest Windows 11.
Work on both Intel and Apple Silicon Macs.
Compatible with macOS Monterey, Big Sur, Catalina and Mojave.
Easy-to-follow steps.
Able to open, edit and create new ISO file.
The Bad:
Commercial software.
Not support Linux ISO.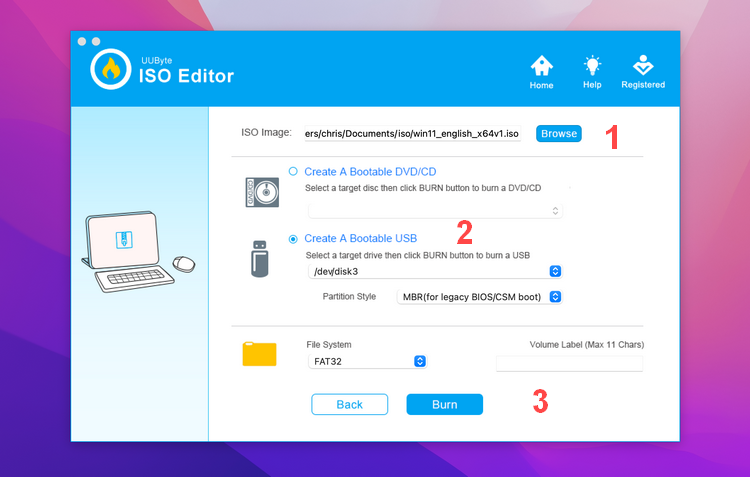 #3 Terminal
Terminal is the most powerful tool inside an operating system. Whether it is Linux, macOS or windows. At the very beginning time of computer industry, there is no graphics user interface for operating system. Only command line approach is supported to perform a set of target tasks.
In short, all the things that you can do graphically, it can be done easily with the commands on terminal. However, you should know how the command works. It  definitely save a lot of time compared to using those steps graphically.
Since we are talking about Rufus's alternative, then terminal certainly is one of them. Just Google or watch a YouTube video regarding how to create bootable USB on Mac using terminal.
The Good:
More flexible options than  Rufus.
Work well on all Macs.
No need to download or install any software.
The Bad:
A pain in the ass for beginners.
Must learn the exact commands to complete the task.
More risk if typed a wrong command.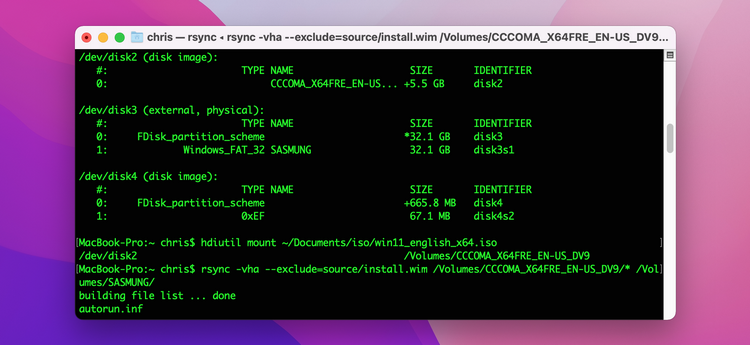 Best Rufus For Mac Alternative (Creating Linux Bootable USB Installer)
Linux is the most popular operating system on server side. Hence, a lot of users want to create a Linux bootable USB to play around. In this part, we will show you two good apps for doing this. They are great Rufus for Mac alternative tools for making bootable USB from Linux ISO image.
#1 UNetbootin
UNetbootin is one of the best alternative application to Rufus which is specifically created for Linux distributions and rescue utility, including Ubuntu, Debian, Linux Mint, Fedora, FreeBSD, Parted Magic, Kaspersky Rescue Disk.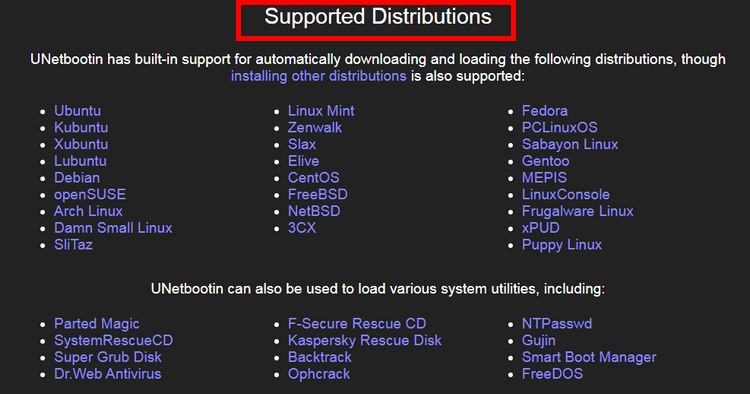 You can create bootable USB for Linux in any platform that you want. It does not matter it is windows, macOS or Linux itself. The other feature of  UNetbootin is that it has the ability to run an operating system live on the USB flash drive. Even though this part depends mostly on the distribution of the Linux that you are selecting.
Unfortunately, it does not have good support for Windows 10 and Windows 11 ISO. However, there is no problem with old Windows versions, such as Windows 7, Windows Vista and Windows XP.
The Good:
Good support for various types of ISO images.
Cross platform application (Windows, macOS and Linux).
Download Linux ISO from Internet.
Standalone app without installation.
The Bad:
Developer identity was not verified by Apple (potential risk).
Not use-friendly and old-style UI.
Can not create bootable USB from Windows 11/10 ISO.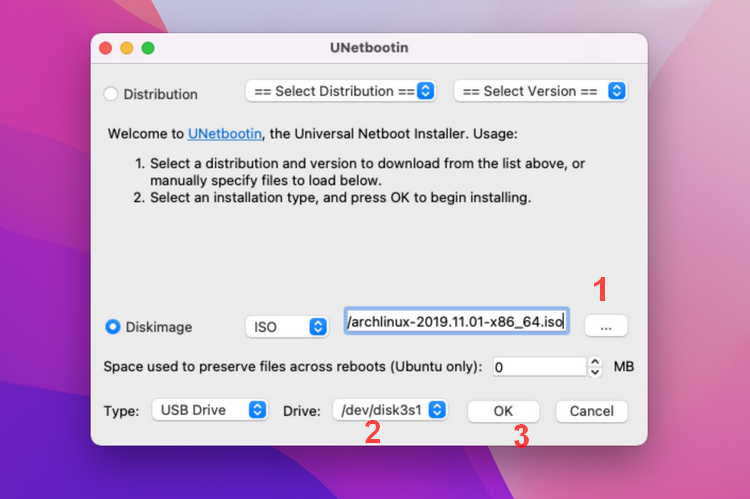 #2 balenaEtcher
The first alternative application that comes in mind for Rufus is known as balenaEtcher. It is a powerful open-source application that is compatible with windows, Linux and macOS. Not only that you can create bootable USB for those operating systems, but you can run it inside them too. However sometimes it is causing a bit of problems for booting the operating system. Specifically, if you are creating a bootable USB for Windows machine. Most of the time it is not booting it to the installation page for some reason.
The Good:
Free and clean app.
Simple and clean user interface.
Create bootable USB from Linux ISO and macOS DMG image.
Write OS image to SD card.
Frequent updates for bug fix.
The Bad:
Windows ISO is not supported.
Not compatible with GPT partition scheme (NO UEFI).

Best Rufus For Mac Alternative (Creating macOS Bootable USB Installer)
Making Mac bootable USB is a lot of easier than Windows as there are many free apps available for doing this, including the free Terminal app. You can refer to the introduction in the first part. We won't go for details for it this time. Instead, we will introduce two free apps for creating macOS bootable USB in this section.
Tips: You need to download macOS installer app from Mac App Store first, which is required by the following apps.
#1 Install Disk Creator
The first suggestion goes to Install Disk Creator. It is lightweight utility developed by MacDaddy. It is a dedicated app solely for creating bootable macOS installer. This portable app does not require installation. Just download the zip file from its website and unzip the archive to run Install Disk Creator app.
After that, select the USB drive and pick up the macOS installer app. Simple enough, right?
The Good:
Free of charge.
Support the latest macOS Monterey.
No pop-up ads.
The Bad:
List the internal SSD as target drive (risky).
#2 DiskMaker X
The other application which is alternative to rufus inside MacOS is diskmaker X. The only drawback is that the it is only available until the macOS Catalina. It means if you are using MacOS Big Sur or MacOS Monterey you cannot install the application to create bootable MacOS installer. However, for older versions of the Mac it works like a charm.
The Good:
Easy to create Mac bootable USB installer.
Lightweight.
Free.
The Bad:
Not working on macOS Big Sur and macOS Monterey.

Summary:
The developer of Rufus still has no plan to port Rufus to Mac platform yet. Hence, Rufus for Mac is not available the time we are writing this post. Please don't worry as we list a few alternative tools you can use to create bootable USB for Windows, Linux and macOS.
Each tool has it advantages and weakness. Make sure read the introduction carefully and choose the best Rufus for Mac alternative for your own case.