Windows 11, still being in its nascent stage, is yet to develop the type of support that most of its predecessors have. If you face a challenge with any of the previous version of Windows, all you need to do is to search for it on Google. However, when it comes to Windows 11, it would be very difficult for you to find a genuine solution.
One frequently asked question is how to bypass Windows 11 password. And if you just forgot Windows 11 admin password, then, you are in big trouble. Don't worry because you have come to the right place, where we have listed a number of ways to bypass admin password for Windows 11 PC.
In general, there can be 2 situations. First, you still know the login password and would like to bypass it, and second, you don't remember the password. Let's see how to bypass Windows 11 password in each case.
Table of Contents:
Case 1: Know Windows 11 Password
This is the first case where you remember Windows 11 admin password, but would now like to bypass it on a Windows 11 PC. It can be done with the help of netplwiz utility that comes with Windows 11 OS.
Netplwiz – Bypass Windows 11 Password Login
This is a simple utility in Windows 11 and its predecessors. It is used to edit, modify Windows 11 user accounts. Most importantly, it's a built-in tool, so you do not need to install anything to apply this trick. Here's how to use netplwiz utility to bypass Windows 11 password.
Please login to Windows 11 PC using the old password and go over to Settings -> Accounts.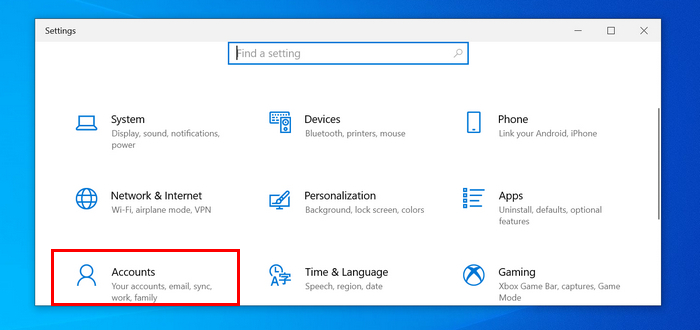 Press the Sign-in Options on the left and then disable Window Hello sign-in option if you are using this feature for login.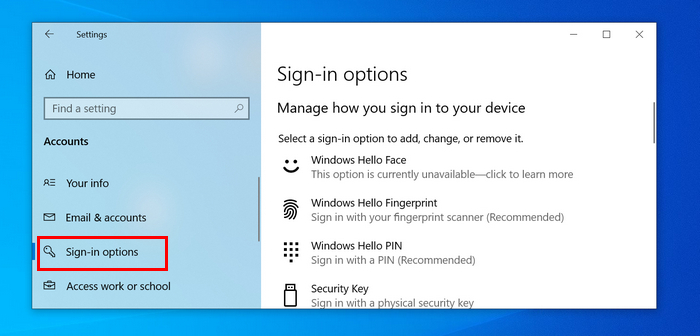 Now exit the window and type run in desktop search bar and then press Enter. In this dialog box, enter netplwiz to open this free app.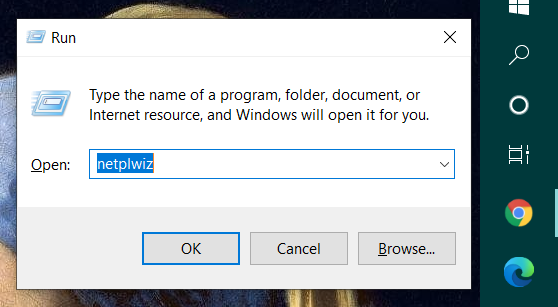 The User Accounts window would come up. Here, all of the users on your Windows 11 PC would be listed. Select the user for whom you would like to bypass the password.
Now, look for a checkbox at the top that says Users must enter a user name and password to use this computer. Uncheck it and press Apply to make the change into effect.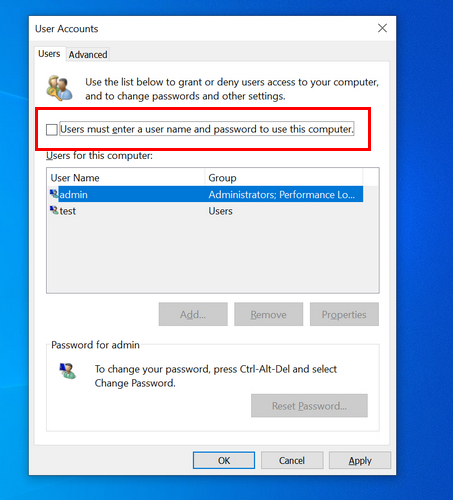 Now you would get another popup box which asks for current password. Ensure that the user name in that pop-up box is the one for whom you would like to bypass the password. Enter the password twice, and finally press OK. Now you have successfully bypassed Windows 11 password for this account. After this change, there is no password required during Windows 11 login. And the computer goes to desktop automatically when this account is set to default for login.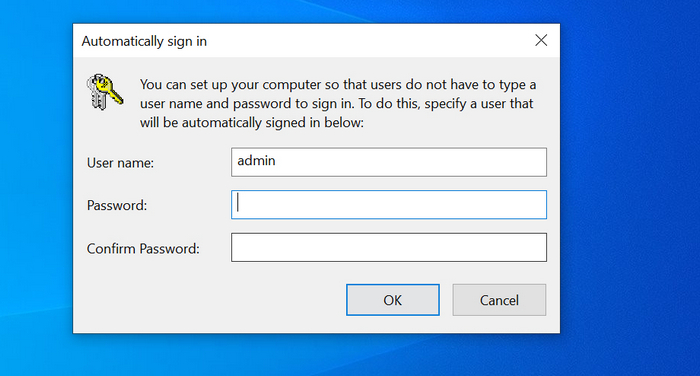 Case 2: Forgot Windows 11 Login Password
As mentioned previously, this is the second case, where you forgot Windows 11 admin password, but would like to bypass  Windows 11 password to unlock the computer. This is a more popular case and we have listed a number of tools/utilities that you can use to bypass  Windows 11 password. Please choose the right one based on what suits your situation best.
Bypass Windows 11 Password via Live.com
You have to link a Microsoft account during Windows 11 setup process. Hence, a lot of people are using Microsoft account for login. In case you forgot Windows 11 password and sign in Windows 11 with a Microsoft account, then it is easy to reset Windows 11 password by using another device with Internet access via live.com, the official web service for Microsoft account password recovery.
Please remember that this works only in the situation where you are logged in using a Microsoft account on a Windows 11 PC.
First, visit the following page on live.com (https://account.live.com/password/reset) on another Internet device. You will see the following screen upon success. Now, enter Microsoft account Email ID which is used to login to  Windows 11 PC, and press Next.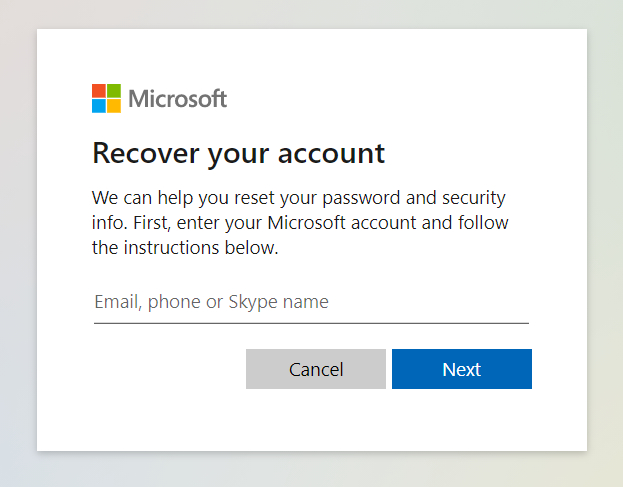 You'll be asked to verify the identity at this time. They will mail a security code for that. Select the email ID and press on Get Code button.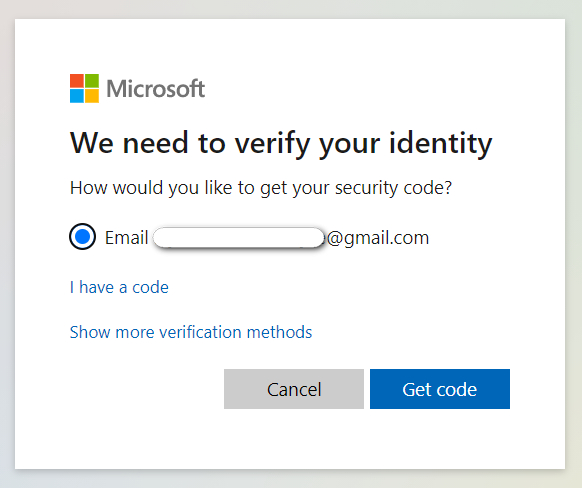 Next, you need to enter the verification code found in your email. Enter that verification code, and press Next.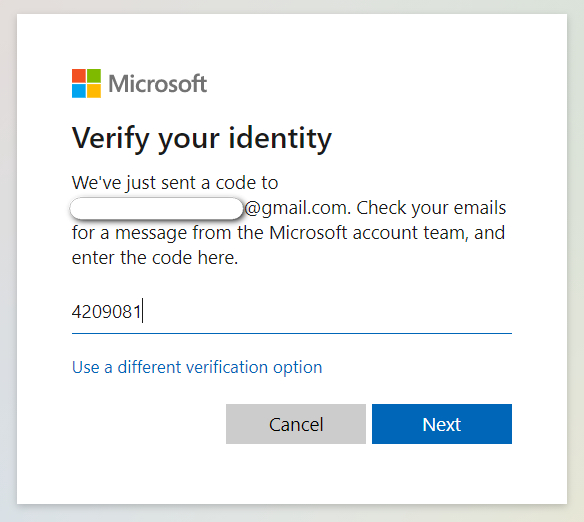 Finally, you'll be able to set a new password for login. Just do as it asks. Now the old admin password has been reset successfully and you should be able to login to Windows 11 PC with the new password.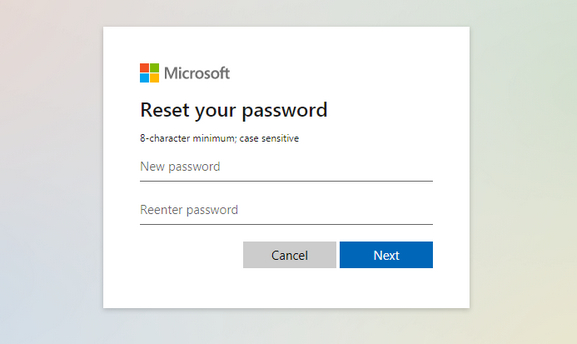 In real world, not all Windows 11 customers are using Microsoft account for login. Instead, they prefer using a local account to sign in Windows 11. This is also a common case in digital world. So in the following sections, we are going to introduce three tools to bypass Windows 11 password for local accounts.
Bypass Windows 11 Admin Password via iSeePassword Tool
When it comes to password recovery or reset, iSeePassword is a popular name when you are trying to get answer from search engine. Its Windows Password Recovery does a great help in bypassing Windows 11 passwords for Windows local account. And there is no barrier for using this product as it has a very simple user interface powered by on-screen instructions .  That's why why we recommend iSeePassword Windows Password Recovery at first place.
The details steps are shared in below. Please read the content carefully.
Before go aheading, please download this program fro our website. The download link are available in here:
Now, install this tool on another PC. and it does not have to be a Windows 11 PC. You'll get an option to create a bootable USB or CD/DVD after opening this program. You need to choose the appropriate option and click Burn menu in order to make a password reset disk.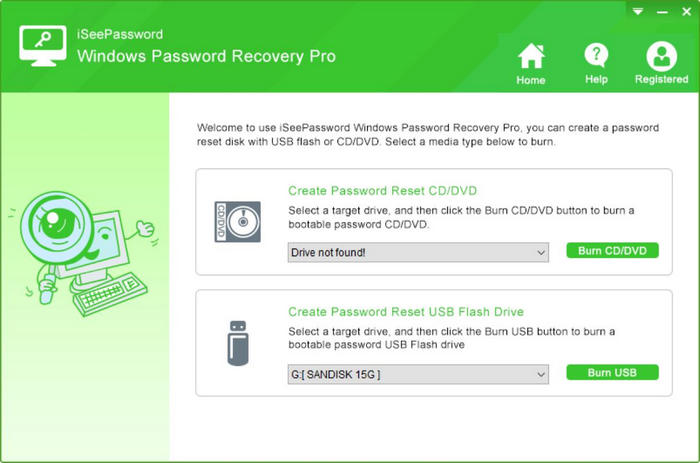 Next, you'll get a massage that the USB was created. Take out the USB and put it in the Windows 11 PC, then boot Windows 11 computer from this password reset USB.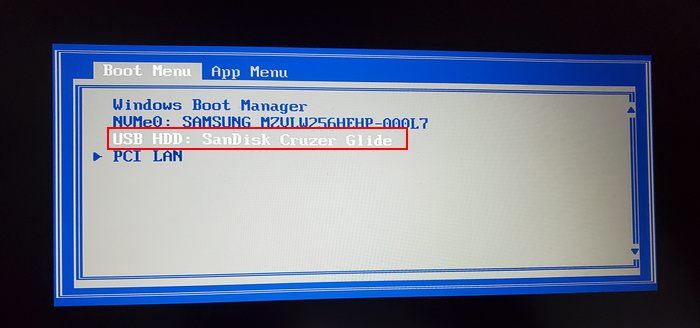 iSeePassword Windows Password Recovery will be shown on the computer screen and display a list of users accounts on this locked Windows 11 PC. At the top of the window choose a Windows installation.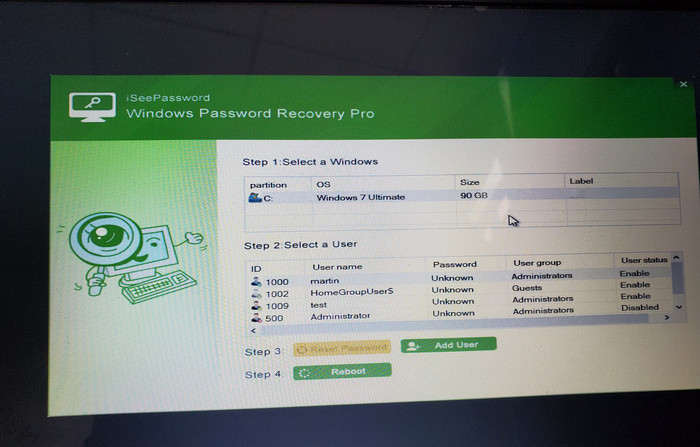 At last, select a local account for which you would like to bypass the password. Press Reset Password button, this will render current password to blank for that Windows 11 account.
When the above steps are completed, reboot the computer and you'll be able to login to Windows 11 PC automatically.
Bypass Windows 11 Password via UBCD
Ultimate Boot CD (UBCD) is yet another rescue toolkit that will not only let you bypass Windows 11 password, but also solve many hardware issues for any PC. It is available free of cost, and you'll be able to check all the tools that comes with this utility from their website. Here's how you can use UBCD to bypass Windows 11 password.
Go over to UBCD download page (https://www.ultimatebootcd.com/download.html) to get the ISO image file and then create a bootable USB from this ISO on another PC.
The next step is to insert this USB into locked Windows 11 PC and boot from this rescue USB. You can accomplish this task from Boot Menu or BIOS settings.
Once Ultimate Boot CD shows up and  a couple of menus are available. From this part,  choose Parted Magic to continue. As reference, Parted Magic is a complete disk management toolkit for  partition, erasing, cloning and benchmarking.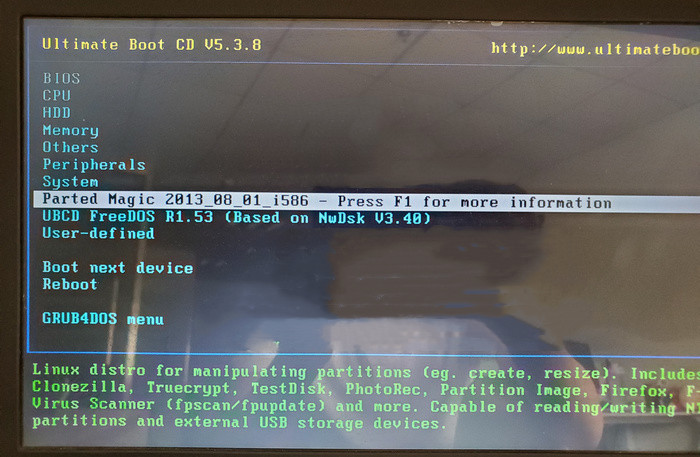 From the option menu, you should choose Default settings (Runs from RAM). Wait for 4 minutes and Parted Magic desktop will be loaded in a Linux-style environment. From here, press Start -> System Tool -> Change Windows Password.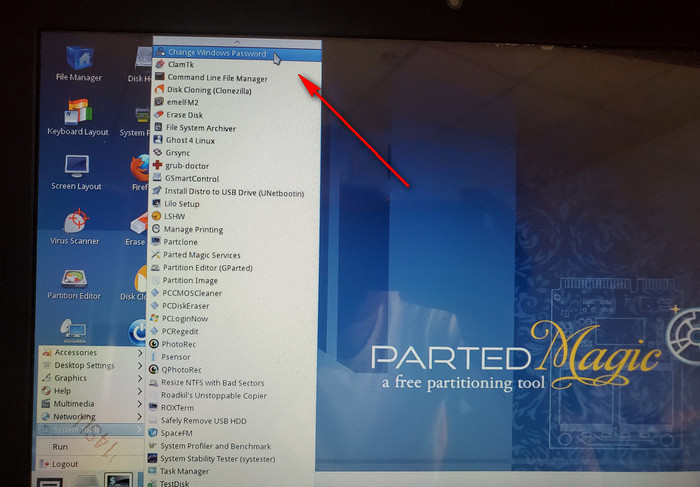 Once this utility starts, you have to select a Windows installation on this hard drive. It will list all Windows partitions by default.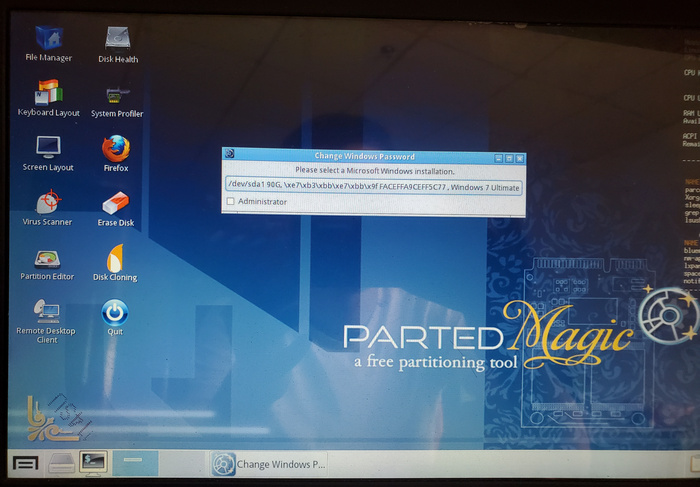 Now, Change Windows Password tries to load HIVE file from local drive where stores the user password of Windows installation. Please input 1 to edit user data and password.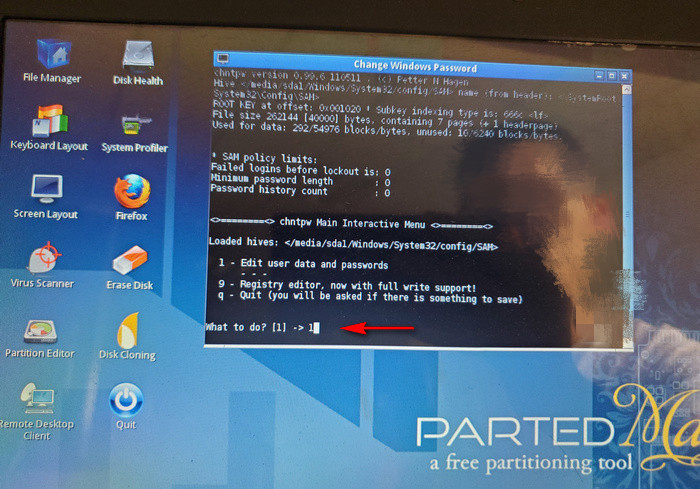 At this time, all user accounts are displayed on the screen. Please enter the correct user name to proceed.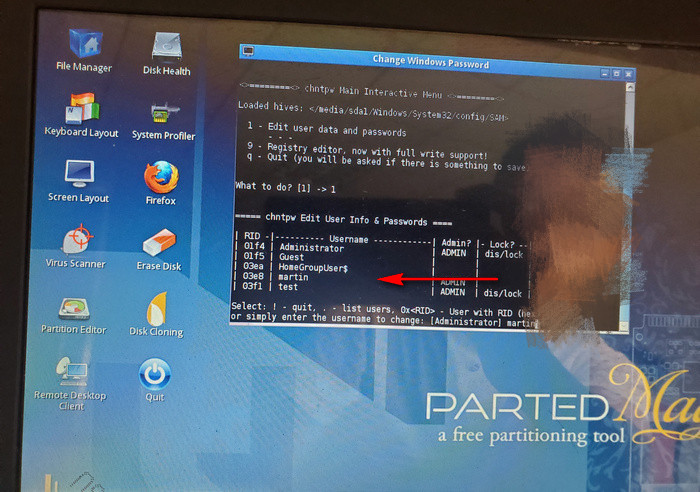 When the user is selected, then you will be presented with five options. Please type 1 (clear user password) or 2 (set new password) to continue.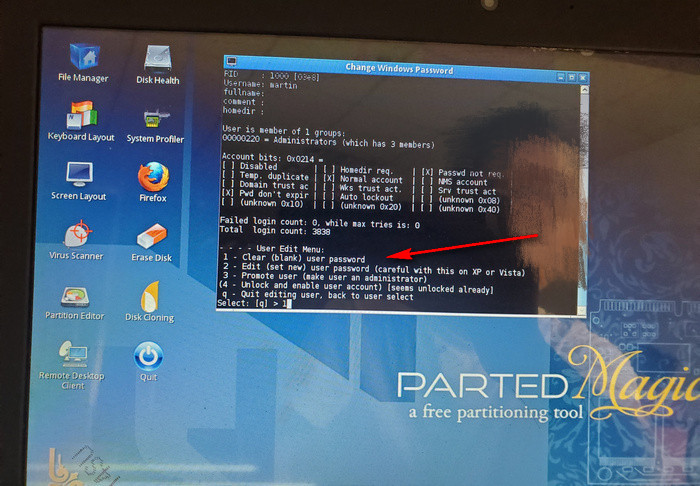 After input, you will see a reminder saying Password cleared. Please type q to quite the program and type y to save the change.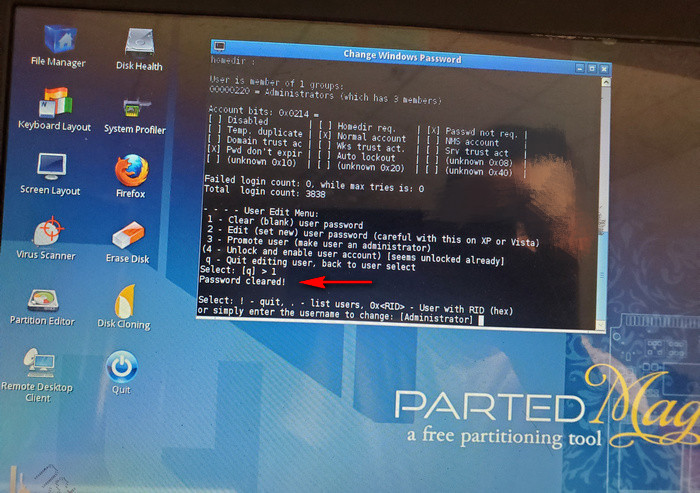 Finally, take out the USB and reboot Windows 11 PC, you should be able to login without any password at all!
Bypass Windows 11 Password via Ophcrack
Ophcrack is the last one we share in this post and it acts a bit different from above tools because it helps you recover lost password instead of resetting it. Once the password is recovered by Ophcrack, then you can use it to bypass Windows 11 password via netplwiz method we introduced at the beginning.
However, Ophcrack's UI is a little backdated and can be a bit challenging to understand, especially if you are not a technical person. Also, it may get blocked by many anti-virus programs. Here's how you can use Ophcrack to bypass Windows 11 password.
Get Ophcrack ISO file of Live CD version from their website (https://ophcrack.sourceforge.io/) and burn it to a USB drive afterwards. Some of the recommended ISO burning tools are UUByte ISO Editor, UNetbootin or Rufus.
Next, boot into Windows 11 using this USB. You'll see 4 options, select Ophcrack Graphic mode – automatic option on the screen. You can use up/down arrow key to highlight this option, and Enter key to choose it.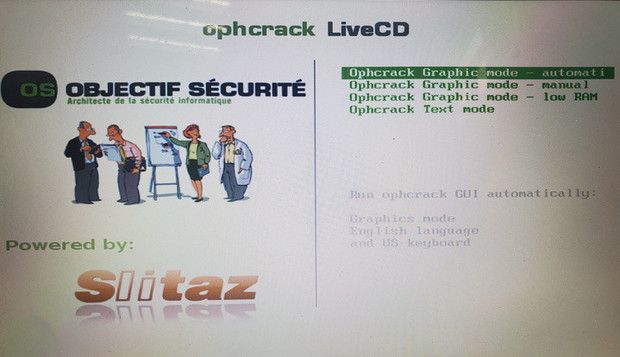 From now on,  Ophcrack tries to gather all user information on this Windows 11 PC (including the passwords for those accounts). It may take a long time in case of a lengthy and complex password, several days in some cases.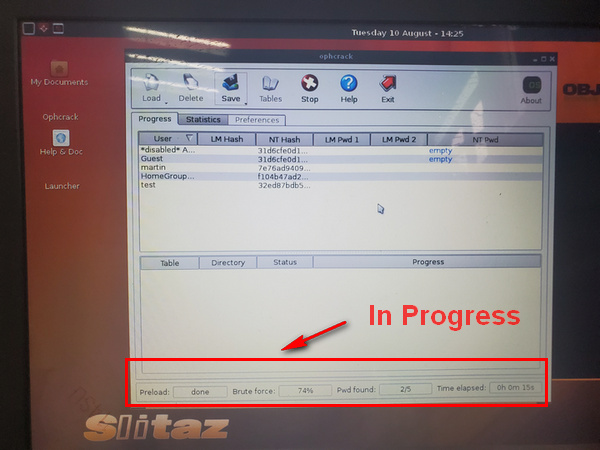 Once complete, the password is shown in the NT PwD column.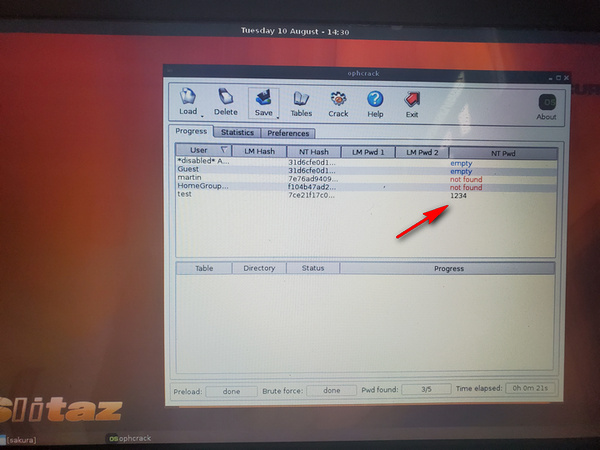 Like usual, login to Windows 11 the next time with this password after you have taken out Ophcrack bootable USB from the computer. Once the Windows 11 PC reboots, enter this noted password to login to Windows 11 PC.
Lastly, follow the first method for known passwords in this article to bypass Windows 11 password that you just recovered with Ophcrack.
Reset Windows 11 PC
Factory reset is a stock feature on Windows 11. It lets you full clean up the system drive as well as delete user accounts and passwords. This can be a helpful option when there is no important data sitting on this device. And you can utilize this trick to bypass Windows 11 password and boost performance.
Before taking into action, make sure boot Windows 11 in safe mode and copy your private data from desktop to another storage device. This can be also done with a rescue disk such as Ultimate BootCD or Hiren's Boot CD.
Once the backup is completed, restart Windows 11 PC and keep pressing shift or F11 key. This will force Windows 11 booting into Recovery environment, where you can find Reset this PC option in Troubleshoot.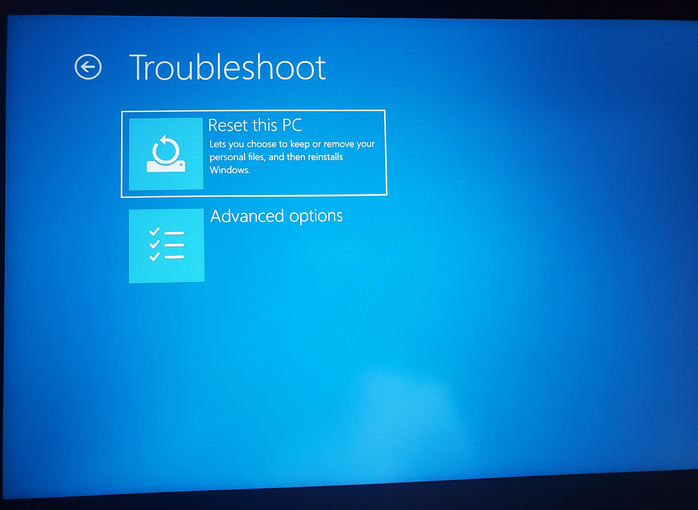 Follow the screen instructions and choose a right option to reset Windows 11. After that, add a new user account without password during Windows 11 setup. After this, you will not see password option during login.
Wrap up
It is not a difficult task when you want to bypass Windows 11 password even you have forgotten it. We have listed several useful tool to help you out. Please read the steps carefully and pick up the right one that suits best in your own case.