When you make a call on iPhone through Emergency SOS, iPhone  dials the local emergency number automatically. In some countries and regions, you may need to select the service you need. For example, you can select Police, Fire, or Ambulance in Hong Kong.
You can also add emergency contacts. When an emergency call ends, iPhone notifies your emergency contacts with a text message.  In addition, iPhone sends your current location to emergency contacts and sends updates to emergency contacts based on changes in your location for a period of time after iPhone enters into SOS mode.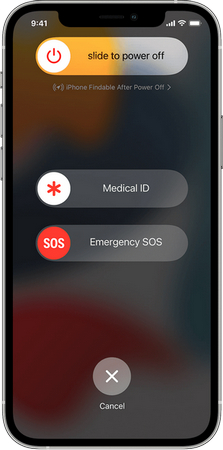 This feature saved my life. I got into trouble on a descent when I was skiing on a glacier near Courchevel in France.  A thrilling solo descent was about to take place at 10,000 feet above horizon line . I was enjoying the thrill of extreme sports, but the episode suddenly appeared, the snow was hidden in a crevasse, When I had fallen into it, stuck in the ice under five meters, life and death only separated by a weak ice bridge.
In this environment, you can only do some small movements. I carefully took out my iPhone and found that there was still a 3G signal at five meters under the ice, but at this time the battery was only three percent left, which means that the options were extremely limited, and death seems coming very close.
Fortunately, I remembered iPhone has an emergency SOS,  a life-saving feature that sends the iPhone's location  to emergency contacts and emergency services.  I took out this nearly dead iPhone and made Emergency SOS call for five times. Rescuers arrived shortly after receiving the message and rescued me  from the crevice. I was so lucky at that time. That is why I wrote this post.
Everyone who owns an iPhone should turn on Emergency SOS on iPhone. It is a good practice to prepare for a rainy day. I'm not looking forward to the day I actually came across, I just want to be safe and sound.
How to Turn on Emergency SOS on iPhone
On iPhone 8 or later models, iPhone can automatically call emergency services. If Auto Call and Countdown Sound are enabled, iPhone starts to play a warning sound before it tries to make an emergency call. After the countdown ends, iPhone automatically calls emergency services. To turn on Emergency SOS on iPhone, please  follow these steps.
Step 1: Open the Settings app on iPhone.
Step 2: Find "Emergency SOS" and tap on the option.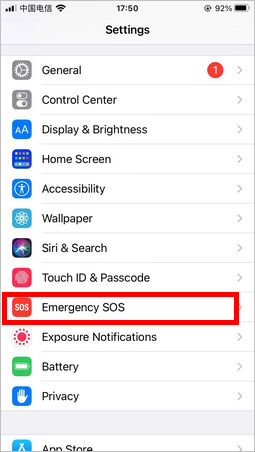 Step 3: Turn on Auto Call and Countdown Sound menu in Emergency SOS settings.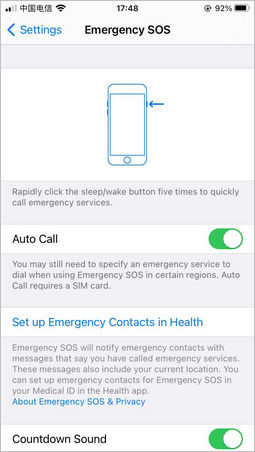 How to Make an Emergency Call on iPhone
On iPhone 8 or later devices:
Step 1: Lock the iPhone and you will see a slide bar as usual.
Step 2: Press the Volume down or up button as well as the slider at the same time. Release the two buttons when you see Emergency SOS option appears.
Step 3: Hold the Emergency SOS slider bar and drag it to the end in order to call an emergency services. If you just keep pressing the two buttons, a pop-up countdown slider bar overwrites the Emergency SOS menu and a reminder sound starts to play. At the end of countdown, iPhone will make an emergency call automatically.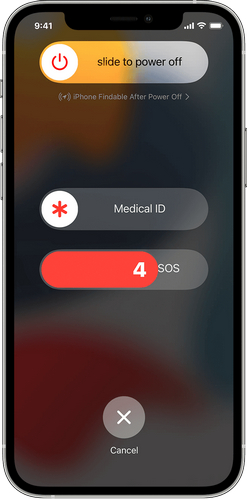 On iPhone 7 or earlier devices:
Step 1: Press the Power button at upper right corner five times continuously.
Step 2: You will see a countdown on iPhone's screen.
Step 3: When the countdown ends, iPhone will call the emergency service by default.
When the call is finished, iPhone will sends a text message with your current location to your emergency contacts. However, you can cancel it immediately if it was a wrong operation. In addition, the location service will be enabled temporarily if location services is currently turned off.  When the location of your current position changes, new updates will be pushed to your emergency contacts at the same time. Your iPhone will also receive this notification after 10 minutes.
Tips: If  Emergency SOS is turned off on iPhone, you can still use SOS Emergency slider to make a emergency call rapidly.
How to Add Emergency Contacts on iPhone
Step 1: Unlock your iPhone and open Settings app.
Step 2: Scroll down the page and get into Emergency SOS menu. From there, tap on the option that says Set up Emergency Contacts in Heath.
Step 3: In next screen, you need to create a Media ID to proceed.
Step 3: Tap on the menu to create a new ID. Now, move over to the button and tap on add emergency contact.
Step 4: Pick up candidates in your contacts and save the changes.  After that, they will be set as emergency contacts for you.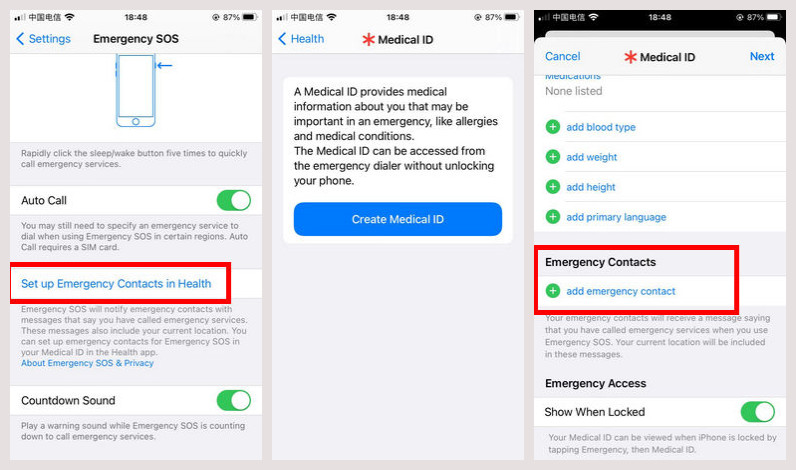 The Bottom Line
It is very important to turn on Emergency SOS on your iPhone just in case of unexpected things happens. It will play a very important role for rescue. Please don't forget to enable this feature on iPhone