It is a digital world now and we just cannot live without passwords. The apps, websites and services are required password for login, making its almost impossible to remember all the passwords you have created for different accounts and writing them down in a paper is not a secure option.
Hence, it is vital to take advantage of password managers, which can record all you passwords in one place and only needs to remember the master password.  What's more, you can use the same app or service across different devices such as PC, smartphone or tablet.
In here, we have listed here the top six password managers that are showing great performance and capabilities in 2021. Most importantly, all of these are either free, or at least have a free version available. Please read the review carefully and choose the best one for yourself.
LastPass Password Manager
LastPass is one of the best freemium password managers available today. They have 3 pricing plans: free, premium, and families. The free version of this utility has all the must-have features of a password manager including the ability to automatically fill-in passwords, generate strong passwords for future use, a special report generate that shows the strength of your password and a lot more. LastPass uses a military grade 256 bit AES encryption for encrypting stored passwords.
However, cross-device syncing is a problem for the free version users of LastPass. With its latest update, LastPass would allow its free users to sync only between legacy devices (laptops, desktops), or between mobile devices. However, they will not be able to sync between legacy devices and mobile devices. This might be a serious issue for many people.
LastPass supports most major OS including Windows, macOS, and Linux. It also adds supports to most browsers including Chrome, Edge, Safari, Firefox through its browser extensions. You will get the option to import existing passwords from your browser. You also get the option to share passwords with others through emails. You also get a 50 MB online cloud storage, along with the ability to create secured notes.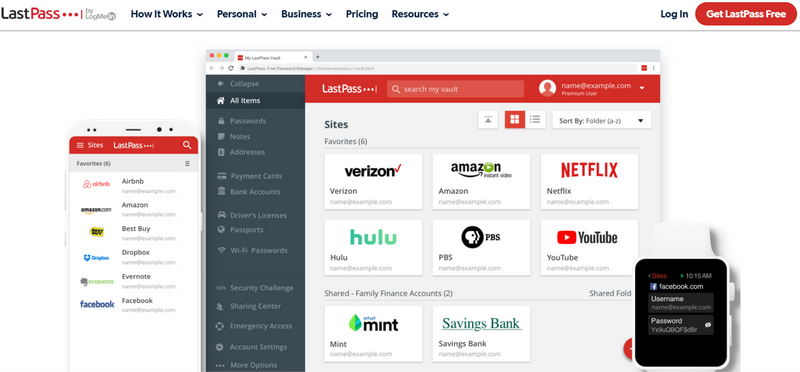 Pros:
Sync password across one device type.
Auto-fill password for login.
Generate user name and secure password.
Secure password vault for storing critical information.
Available on Windows, Linux, Mac, Android and iOS.
Free browser extension for Chrome, Firefox, Microsoft Edge and Opera.
Support digital wallet.
2-factor authentication.
Share password and login with family members or friends.
Monitor your account in real time and push alert if your info is under risk.
Cons:
No cross-device syncing for free plan.
Only one user available in free plan.
No free cloud storage.
Got hacked in 2015.
In a nutshell, LastPass Password Manager is an all-round winner unless you need to sync password on different devices (computers and mobile devices).
MYKI Offline Password Manager
Unlike most password managers, MYKI does not store the passwords on the cloud. Instead, it stores them on locate device where MYKI app is installed.  MYKI  Password Manager boasts superb user interface and its ease of use. You need to install the app for the first time on  a smartphone, and then you can start using it on other smartphones through the app or on computers with MYKI's browser extensions.
MYKI allows you to import password from other password managers. It gives you the ability to import passwords, secure notes, and credit card/debit card details. With MYKI you can save new passwords, however, it only saves the top domain while saving the password instead of the entire URL. This may cause issues when you are trying to use your saved password the next time, although, you do get the option to manually edit the URL field.
It also has a standard 2-factor authentication, and can be used instead of Google authenticator. You can fill out web forms with the help of MYKI, however, it does have few issues with identities while filling out these web forms. It has a standard password generator, and a security dashboard which can help you with its automatically prepared to-do list. Although, the report for password strength is not much effective on iOS.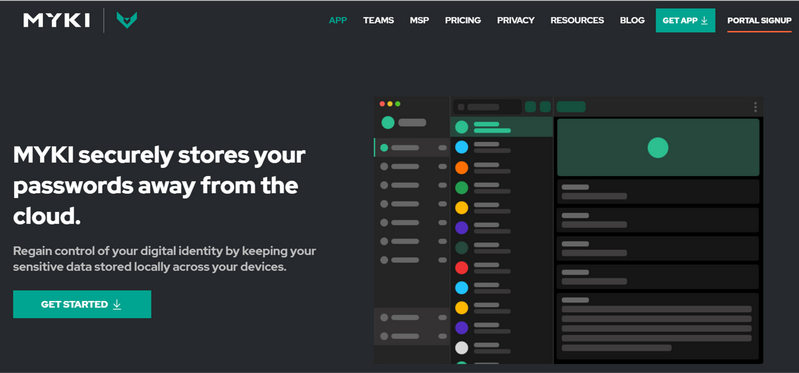 Pros:
Completely free of charge for home user.
Store password on device only.
More safe than cloud password manager.
Login via PIN, Fingerprint or Face ID.
Encrypt end-to-end device syncing via 256-Bit AES.
No master password required.
Default Two-Factor authentication.
Support Android, iOS, Windows, Linux and macOS.
Free browser extensions for Chrome, Firefox, Safari, Edge and Operate.
Cons:
Take more time for device sync.
No password generator.
Issues with identities for filling out web forms.
In a nutshell, if you are worried about cloud password manager or want to sync passwords across different devices locally, then KYKI Offline Password Manager is your best choice.
LogMeOnce Password Manager
This is yet another secure password manager with several powerful features. Unlike LastPass, LogMeOnce has a more clear pricing model: Pay based on your needs. The free version (Premium Plan) is fair enough for common password management. You can save unlimited passwords and sync passwords between different devices without any limitation. It is also capable of auto-filling passwords for web login. In addition, it provides five different ways for login, including password, Face ID, PIN code, fingerprint and photo.
It also has a strong password generator and you can securely share passwords with others. Besides passwords,  it can store credit card, notes and files along with LogMeOnce Password Manager.
Setting up LogMeOnce is pretty simple. You can install it on your computer through its browser extensions and then extend support to your other devices. It sports an easy-to-use user interface. The mobile apps are quite capable too. It has a standard password strength report, 2-factor authentication, along with login using photos. It also has its own support team in case you run into any problems.
LogMeOnce offers a 1 MB secure cloud storage, 3 secure notes, 5 password sharing, and storing up to 3 card details for its free users. It also has a password calculator.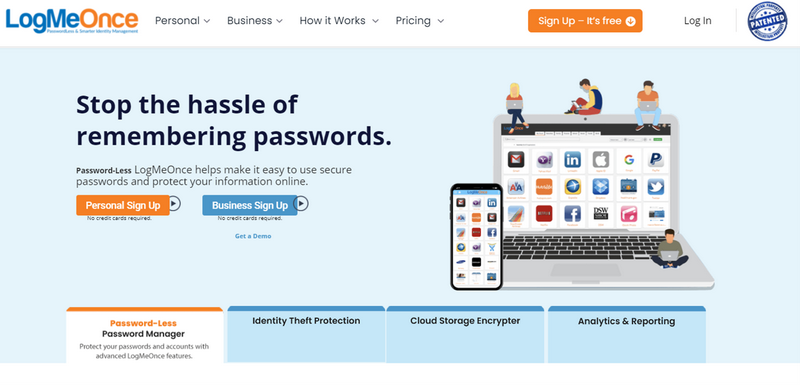 Pros:
Save unlimited passwords.
Sync password across unlimited devices.
Encrypt passwords and files in cloud.
Auto fill web forms.
Come with 2-Factor authentication.
Multiple login options.
Free password generator.
Free email support.
Cons:
No dedicated desktop application.
Only Chrome browser extension available.
In a nutshell, LogMeOnce Password Manager is suitable for users who prefer using mobile devices to manage their password.
Bitwarden Open Source Password Manager
Bitwarden is an open-source password manager that is truly free. It does not impose any limitation towards the users of its free version. Although it does have a paid version available too. Like most other password managers, you can set up a master password. This too offers a 2-factor authentication; however, it does have an added advantage in that it shows which website will not let you get back access to your account once you lose access to your 2-factor authentication device.
It comes in many flavors including desktop apps, web interface, and browser extensions. Although you need the web interface for a few specific functionalities like enabling the 2-factor authentication. The desktop app too does not have complete sharing capabilities.
Bitwarden does have the ability to point out weak or duplicate passwords from your existing password list, however, if you are a free user you need to search for these weak passwords manually. It has a strong password generator that works pretty well. You can also use Bitwarden to fill out web forms. It is available on Android, iOS mobile platforms.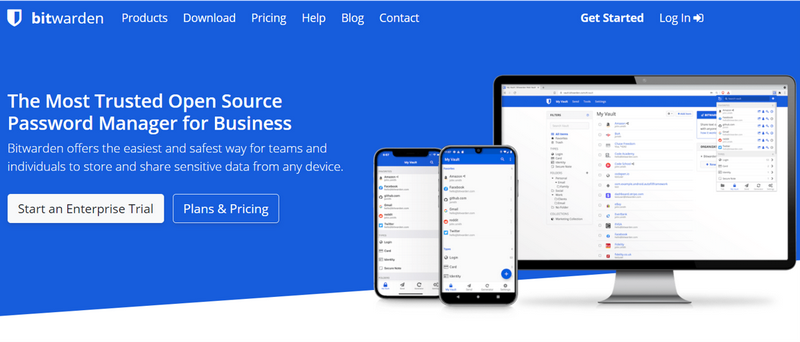 Pros:
Source code available for free on GitHub.
Free version available without limitations.
Sync password across different devices.
Unlimited passwords, notes and cards.
Ideally for personal and business usage with self-host feature.
2-factor authentication
Generates strong passwords automatically.
Available on all platforms (Windows, Linux, macOS, Android and iOS).
Free extension for all mainstream web browsers.
Provide health report for passwords.
Active user community to get fast support.
Free and powerful command-line tools for developers.
Cons:
Only one user in free version.
No auto-fill.
In a nutshell, Bitwarden Password Manager is more preferred for developers and business organisations that plan to build their own password manager service. 
PassHub PassWord Manager
PassHub is yet another cloud password manager. It has the regular features of  other password manager, including secure password sharing, password generator, cross-platform support, multi-browser extensions etc. However, other than these, it also has some unique features. You don't need to use   email id to create your account. Instead, you can use a PIN, facial recognition, or your own fingerprint.
It is pretty simple to use, and has a simple user interface. You can store your data in password protected safes. It offers multiple licensing options including a Free, and a Cloud based option.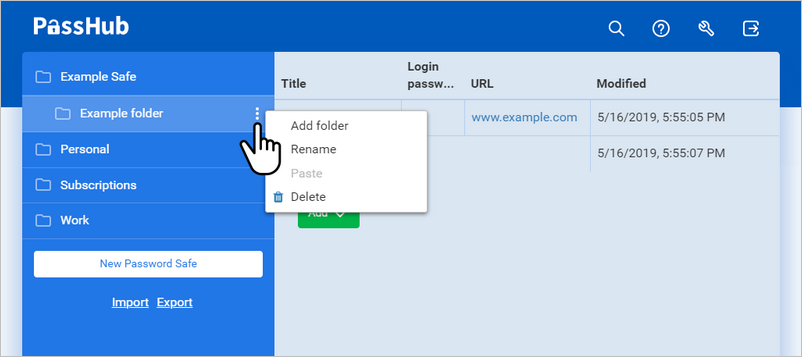 Pros:
Enterprise-level encryption with AES-256-GCM and RSA-2048.
Multiple login options.
Unlimited access on any device.
Organize  passwords, notes and files in folders.
Store password on your own server with self-host feature.
Open source.
Cons:
Less ability to import data.
No password strength report available.
No web-form filling support.
Need to create logins manually.
In a nutshell, please go with PassHub Password Manager if you need enterprise-level encryption. It is built with this purpose and favored by teams and IT administrators.
NordPass Password Manager
Nord Inc. provides one of the best solutions when it comes to VPN. However, that is not the case when it comes to the free version of its password manager, NordPass.  It does not allow the users to share their password on multiple devices at the same time in free version!
It does have cross-browser support.  And it also has desktop apps for Windows, Linux, and macOS.  As usual, it lets you set a master password for increasing security.  In addition, you can import passwords from browsers and other password managers. You can also import or export passwords in the form of CSV files.
Besides, there is also a default password generator with the password manager app, a password strength report, and a data breach report which shows if any of your passwords were leaked. NordPass also has secure sharing of password through emails.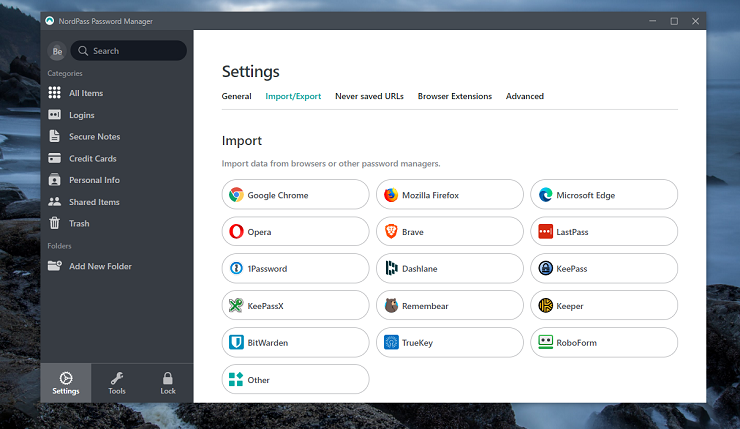 Pros:
Keep unlimited passwords.
Save notes along with credit cards.
Generate strong and unique password.
Nice user interface.
Secure password sharing.
Secure authentication to protect passwords.
Cons:
Only one user account in free version.
Cannot login multiple devices at the same time.
No browser extensions.
In a nutshell, if none of the above password managers fits you well, then give a try NordPass!
Remember, all of these password managers are free. However, all of them have their own pros and cons which we have listed in details. So, based on these, and your requirements, opt for the free password manager that suits your requirement best.